The overview page allows a quick glance at the current usage of your Timerman SLA subscription.
To get to the Timerman Overview page navigate to Timerman > Overview in the sidebar of your hapily Admin Portal account.
From this page you can view your active and recent time audits, total working and paused hours, your Timerman plan, and how many audits you have used in your subscription cycle.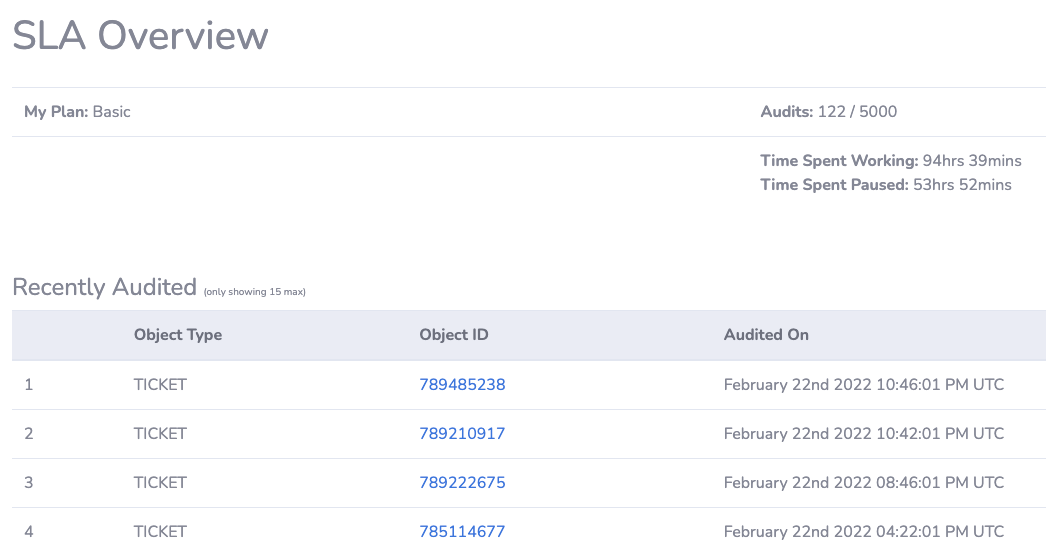 My Plan: Your current Timerman plan subscription.
Audits: The first number is how many audits you have made in the current billing cycle. The second number is your ticket audit limit per billing cycle.
Recently Audited: This displays the 15 most recent tickets or deals that have been audited.


Object Type: The object type (ticket or deal) that was recently audited.
Object ID: The ID of that object. Clicking on the object ID will bring you to that specific ticket or deal.
Audited on: This displays the date (in UTC) that the ticket/deal audit finished.

Being Monitored: This displays the current tickets/deals being monitored (up to 15 max).


Next Audit Date: This displays when the next audit update will take place.
Still have questions? Email us at care@hapily.com