This is less of a "how-to" and more of a guide to help you set up Timerman for success!
How does Timerman work?
Timerman allows you to make several different SLA Policies and apply them to both tickets and deals via workflows. Once a policy has been added to a ticket or deal Timerman tracks the time in each stage and SLA statuses then displays them on a CRM card within the Ticket/Deal UI. Times are paused or resumed depending on what stage they are in. You have full control over which stages are counted as working minutes and paused minutes.
NOTE: Timerman updates timing at most every 12-15 minutes and ONLY when a property is updated. It does not constantly monitor and update time. If HubSpot let us, we would :)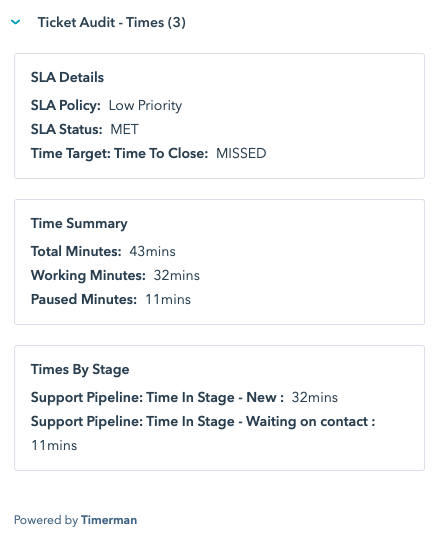 On top of recording all of your ticket and deal times, Timerman allows you to create notifications when an SLA Status is missed and powerful report dashboards using the time data.
Timerman Setup Guide:
While Timerman is pretty simple to use, we want to make sure we set you up for success. Follow the steps below for a seamless Timerman setup!
Create a powerful Timerman Dashboard (Coming soon)
Tips and Tricks:
More tips and tricks coming soon!
Still have questions? Email us at care@hapily.com