In this article we will cover the Associ8 settings and log page
To get to the Associ8 Settings/log page sign in to your hapily portal, select Associ8 in the sidebar, and then select Summary.
Once loaded the page should look like this:
Send Error Notifications:
If you wish to receive error notifications when an association has failed you can toggle this switch on. Errors will be emailed to the email address attached to your Admin Account. By default, this option is turned off.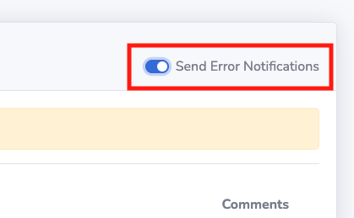 Columns and their meanings:

Date: This is when association was made.
Association: This shows what objected was associated to what.
Search Terms: This column refers to the search criteria used in the Associ8 workflow. Total Associations: This column shows how many associations were made to the second object in the associations column.
EXAMPLE: In the second association listed above, two deals were associated to the contact because two deals matched the search term.
Match: This displays either a Failed or Success status depending on if an association was made or not.
Status: This column displays the error message for a failed association.
Status Errors:
"Error: Could not find..." means that there is no object in your HubSpot matching the search criteria.
"Exceeds Capacity" means that you have reached your associate limit for the month. You will either need to wait until the new month starts need or upgrade in order to continue making associations.
"Not_authorized" means that either you haven't payed or your trial period has ended.
"SQS_Failed" means that there is an unknown error. If you receive this error shoot us an email at care@hapily.com with a screenshot so we can get you back to associating!
Side Note: HubSpot's Workflow History may show a successful transmission even though we are displaying an error. This is expected behavior.
Still have questions? Email us at care@hapily.com